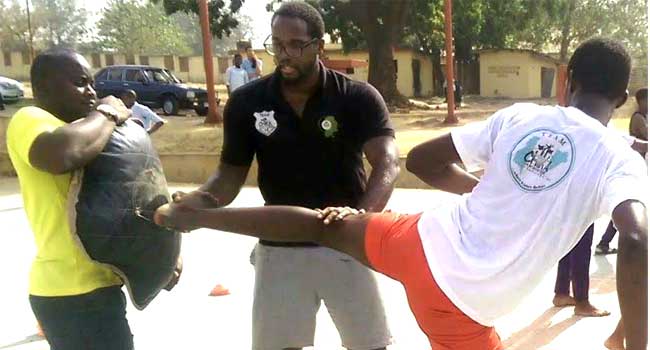 As part of efforts geared towards developing taekwondo in Nigeria, the Chika Chukwumerije Sports Foundation (CCSF) Taekwondo Team, made up of secondary school students from Government Schools, will be heading to Ahmadu Bello University Zaria to practice and learn new skills.
The University team coach, Sani Lawal, a two-time National Champion, three-time University Champion and Internationally Certified Coach will supervise the training session.
The event which is scheduled to take place from March 18 – 20, 2016 at the indoor hall of the university will have a total of five training segments covering: general fitness, technical-tactical training, taekwondo basics, competitive training and video analysis methodology.
According to the Team Manager for TEAM CCSF, Nicholas Olowo, "The purpose of the programme is to inspire athletes and exchange vital training methodologies using the latest daedo electronic technologies"
For Vice-Captain of TEAM CCSF, 18-year-old Peter Itiku of Government Secondary School, Garki, it is yet another exciting opportunity for the students.
"I have never been to Kaduna in my life, and now taekwondo is taking me there. We have been consistently training 4 times a week for almost a year, and we are excited to go and practice with university students in a city we have never visited," he said.
Turning her eyes to other benefits of the trip, 14-year old Bukola Ogunnusi, the youngest member of the team explained, "I have learnt so much in the past year, not only with regards to taekwondo, but other things.
"For instance, prior to this trip, we held a meeting and had to brainstorm on everything needed for this trip – personal equipment, general equipment, number of persons and project, possible cost like accommodation, transportation, feeding etc. This is new for me, and learning how to be organized has been very helpful to my general studies."
Coach of the ABU Taekwondo team is looking forward to working with the youngsters.
"I think that this is probably the first time in Taekwondo that a project to connect secondary school youngsters directly with university players is being undertaken.
"More projects like this undertaken over the years will ensure an early and effective transfer of knowledge to a new generation. We look forward to ensuring the success of this programme."
Three-time Olympian, and CEO of CCSF, Chika Chukwumerije, emphasized the importance of the project.
"We did not have this kind of opportunities as 15 and 16 year olds but this is the right time to simulate these youngsters. Exposing them early is important to fire their Tokyo 2020 Olympic dream, and guide them towards a golden harvest in the next 2019 All Africa Games."
"Most of them are taking WAEC, but we have taught them consistently how to combine their sports and education.  This skill will be vital in the university system and we hope that this three-day program will also give the youngsters a feel of the university system before they get in."