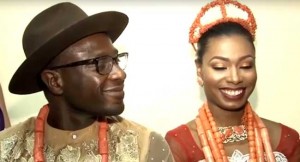 It was the wedding of Ibrahim Clark and Nnei Opia recently in Lagos.
The Clark family, led by the parents of the groom, Chief Edwin and Marinatu Clark, arrived with their son, Ibrahim and other members of the family at the house of Professor Eric Opia and Ruth Benamaisia Opia from Kwale in Delta State to seek the hand of their daughter, Nnei.
Both families are from Delta State and therefore have similar traditions and this was evident in the smooth flow of activities at the engagement of their children.

The breaking of kolanut and the clinging of glasses showed that the Opias were indeed happy to receive the Clark family and it gave the groom the go-ahead to claim his bride.
It was an exciting exercise as he was made to identify his bride from the several mock brides that were presented to him.
Finally, beautiful Nnei Opia, a Journalism and TV Production graduate from a UK university emerged to the relief of Ibrahim and his family.
Two days after the colourful traditional event, they gathered again but this time, it was at the Redeemed Christian Church of God (RCCG), City of David, Lagos for the wedding service.
Metrofile brings you the best African culture from Delta State, Nigeria.