Yobe Holds National Assembly By-Election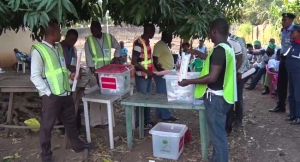 The National Assembly by-election is currently holding in Yobe State, northeast Nigeria.
The election is taking place in order to fill the vacant seat left by the Minister of State for Foreign Affairs, Khadija Ibrahim.
Mrs Ibrahim represented the Damaturu, Gujba, Gulani and Tarmuwa Federal Constituency before her nomination to serve in the President Muhammadu Buhari's cabinet.
The election is holding in Damaturu, the state capital, as well as Gujba, Gulani and Tarmuwa Local Government Areas, constituting the federal constituency.
The streets of Damaturu, like other affected council areas remain deserted, as security operatives continue to search for vehicles and people using the road.
Reports say that electoral officials arrived most venues on Saturday morning in good time for the polls.
The Minister for State Foreign Affairs Khadija Bukar Ibrahim while casting her votes at the Emir of Damaturu polling station commended INEC and electoral officers for the conduct of the exercise.
She also praised the conduct of the electorate whom she said conducted themselves in orderly manner.
Four political parties: National Conscience Party (NCP), Advance Congress for Democracy (ACD), All Progressives Congress (APC) and the Peoples Democratic Party (PDP) are participating in the by-election.