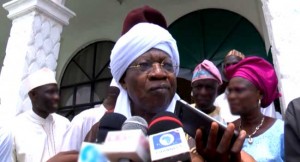 The Minister of Information and Culture, Mr Lai Mohammed, has warned agitators across the country to desist from attacking Federal Government's critical facilities just as he appealed to Nigerians to bear with the government as it finds solutions to the lingering crisis in the power sector.
He was speaking in Abeokuta, the Ogun State capital after being installed as the National Grand Patron of the S'Adatul Abadiya organization in Abeokuta, the state capital.
"We are going to appeal to Nigerians to be patriotic and they should please stop attacking and destroying critical facilities.
"On the part of government, what we have done now is looking for other means of gas such as nonassociated gas.
"We have also been trucking gas from Utorogu to Warri and Ughelli so as to allow for the stations around Sapele to have gas," he said.
The Information Minister assured Nigerians that as it finds alternative means of ensuring adequate gas to fire the existing power stations across the country, effort is being channelled towards achieving the 10,000MW of electricity by the year 2019 by the federal government.
"By February this year, we were able to generate and transmit 5,074Mw of power but we are in this situation today mainly because of the attack on the Forcados export line.
"So now we have capacity to generate but we don't have enough gas and as soon as this platform is repaired we will be able to generate and transmit more than 5,000MW.
"Therefore, aiming at 10,000MW for 2019 is quite feasible," he said.