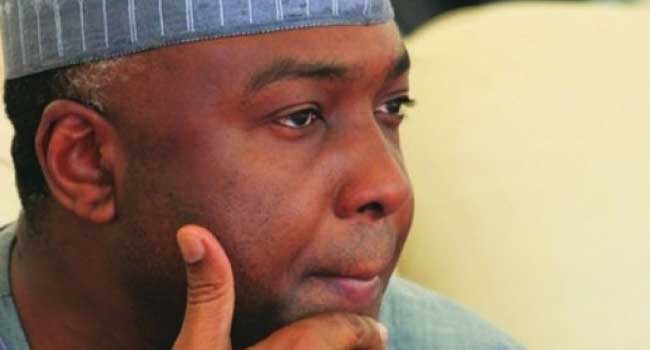 The trial of Senate President, Dr. Bukola Abubakar Saraki, over alleged false assets declaration has continued at the Code of Conduct Tribunal (CCT).
The Chairman of the tribunal and the other members arrived while the Senate President in company of some lawmakers and well-wishers were already seated.
At the commencement of trial, the prosecutor urged the tribunal to compel the defence to stick to only one counsel rather than "change counsels every day" to make the trial tidy.
However, one of the counsels to Dr. Saraki, Mr Paul Ilokoro said that the argument of the prosecutor was absurd in law because the defence, having announced all of his counsels, is entitled to use any of them for the justice of the case.
He concluded by saying that the request of the prosecutor was only to waste the time of the court but the prosecutor insisted that only one person can cross-examine the witness.
However, reading Section 36 Subsection 6 of the constitution, the counsel to Saraki pointed out that the law enables the defendant to defend himself with legal practitioners.
In his ruling, the Chairman of the tribunal said that the position of the Defence was right.
Justice Umar ruled that the defence has a right to conduct its defence in the manner it suits it and the tribunal is bound to allow the defence use every legal instrument at its disposal to conduct its case.
However, the tribunal can draw their attention if they go out of the bounds of the law.
He asked the prosecution to be patient and allow the defence defend its client to its best.
At the last hearing on Thursday April 28, the Chairman of the Code of Conduct Tribunal, Danladi Umar had ruled and accepted an amended 16-count charge filed by the prosecution against the Senate President, Dr Bukola Saraki.
This prompted counsel to the Senate President to take a fresh plea on the charges being raised. Dr. Bukola Saraki then pleaded not guilty to the amended 16-count charges of alleged false declaration of asset filed against him.
The former charge was filed on October 18, 2015 and Prosecution counsel, Mr Rotimi Jacobs, asked the court to accept the new charges, dated April 27, 2016 as the case against the Senate President.
The Senate President was first charged in September 2015 for alleged false and anticipatory declaration of assets.
Chairman of the Code of Conduct Tribunal, Justice Danladi Umar, had earlier in the day also dismissed the application filed by Senate President, Dr. Bukola Saraki seeking Umar's withdrawal from his trial, holding that the application lacked merit.