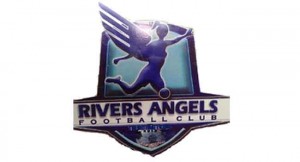 Defending champions of the Nigeria Women Football League, Rivers Angels opened their season campaign with a 4-1 victory over Martins White Doves at the Samuel Ogbemudia stadium in Benin.
Former Kogi Confluence forward, Amaechi Ojini scored on her debut, coming off the bench to send in a rebound from close range after goalkeeper Obia Christiana parried away a shot from Mercy Amanze in the 90th minute.
The champions had taken the lead in the 6th minute through central defender, Osinachi Ohale who blasted from 20 yards beyond the reach of goalkeeper Obia.
Amarachi Ojinma doubled the lead in the 18th minute from a Mercy Amanze cross inside the 18 yard box.
The Port Harcourt side continued to dominate play until the 22nd minute when Cynthia Aku sent in a rebound from a Glory Iroka's shot that hit the cross bar but it was ruled off by the centre referee.
In the 27th minute, Afodia John capitalized on an Osinachi Ohale's error from the midfield to make the tally 2-1.
It didn't stop there as Rivers Angels continued to haunt the defense of their opponent in the second half and 17 minutes later Mercy Amanze raised the tally to 3-1.
Amarachi Ojinma scored in the 77th minute from a superb cross by Ugo Njoku from a set piece outside the box but was this time denied by the assistant referee.
Ojini however sealed things for the league champions to secure a well-deserved victory.
Technical Adviser of Rivers Angels, Edwin Okon was excited with the win.
"It's the first match of the season and is as important as the finals of the league, so you just have to try as much as you can to win your first match.
"So winning away from home is a plus for us and I think am happy as a coach and the team is equally happy," said Okon.
Coach of Martins White Doves, Gladys Nwagbara admitted her team was outplayed.
"I believe we played against a good side. Rivers Angels is one of the best female teams in Nigeria.
"That we lost the game doesn't mean that we cannot win our next game so we're going back to make sure we come out with something in our next game," she said.
Other Results 
GROUP A
Tokas Queens 0-1 Edo Queens
Bayelsa Queens 3-1 COD Ladies
Nasarawa Amazons 3-0 Abia Angels
Osun Babes 2-0 Pelican Stars
GROUP B
Martins White Doves 1-4 Rivers Angels
Capital City Doves 1-0 Taraba Queens
Sunshine Queens 1-1 Confluence Queens
FC Robo 2-2 Delta Queens