IBB Commends Unity Between Niger State Assembly, Executive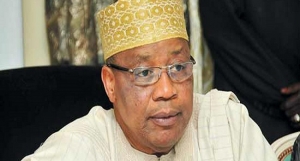 Former Military President, General Ibrahim Babangida, has applauded the cordial relationship that exists between the legislature and executive in Niger State, saying that this would help deliver dividends of democracy to the people.
IBB said this on Tuesday when members of the Niger State House of Assembly, led by the Speaker, Hon Ahmed Marafa, visited him in his hilltop mansion in Minna to welcome him back home after undergoing medical treatment in Germany.
The statesman appreciated the visit and further appreciated the various efforts of the members in their constituencies, urging them to sustain the tempo to the benefit of humanity.
In his remark, Hon Marafa said that they had received the negative social media report of his death with dismay but expressed excitement over his safe return to the country and his family.
While he admitted that death is inevitable, the Speaker expressed gratitude to God for guiding the former President back home.
He urged him to be relentless in using his wisdom to guide, support and advise the state's leaders.
A special prayer for good health was offered for the statesman in his home.