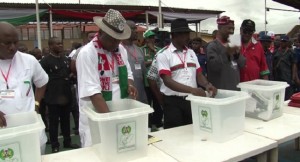 The All Progressives Congress (APC) in Edo State has inaugurated a Reconciliation Committee to reach out to members who may feel aggrieved from the outcome of the governorship primaries of the party held on Saturday, 18 June.
In a statement on Tuesday, the Chairman of the party in the state, Mr Anselm Ojezua, said the committee would be chaired by Prince Malik Afegbua, Board of Trustees member of the party.
Other members of the Reconciliation Committee, according to the statement, are Honourable Lucky Imasuen, Mr Austin Omofuma, Honourable Charles Idahosa, Honourable Theophilus Okoh, Senator Domingo Obende and Honourable Lawrence Okah.
Mr Ojezua said: "The Governorship Primaries of the All Progressives Congress in Edo State on Saturday, 18 June 2016 has been the most successful Primaries ever conducted by the APC in Nigeria. It was peaceful, transparent, free and fair.
"We give thanks to the Almighty God, for His comprehensive control of the entire process, our thanks also goes to His Excellency, Alhaji Bello Masari the Governor of Katsina State and Chairman of the committee that conducted the primaries; through him, we extend our gratitude to each and every member of the Committee that worked to ensure the successful conduct of the event".
He also thanked the delegates, whom he said were led by the Governor of Edo State, Comrade Adams Oshiomhole, for their patience, perseverance and outstanding conduct throughout the process which lasted almost 24 hours.
"The result of the election is a clear indication that the APC in Edo state is strong and united contrary to the falsehood earlier peddled in the media that Edo State APC was in crisis.
"I have this morning inaugurated a Reconciliation Committee headed by Prince Malik Afegbua (member BOT) to reach out to all those who may have been affected one way or the other by processes leading to and including the primaries.
"This is in order to position the party to confront the general election which comes up on the 10th of September 2016," he stressed.