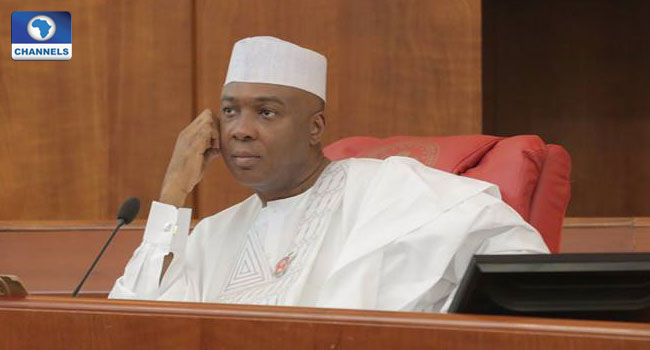 The Senate President has been reacting to his arraignment alongside his deputy at the Federal High Court sitting in Abuja over alleged forgery of Senate standing rules.
In a statement personally signed by him, Senator Bukola Saraki reiterated his innocence and that of his deputy, Senator Ike Ekweremadu of the charges filed by the Attorney-General of the Federation.
The Senate President claims that the charges represent a violation of the principle of the separation of powers between the executive and the legislature as enshrined in the nation's constitution.
Senator Saraki describes the action by the Attorney General as misguided, and alleges that there now exists a government within the government of President Muhammadu Buhari who in his words "have seized the apparatus of executive powers to pursue their nefarious agenda."
He added, "If yielding to the nefarious agenda of a few individuals who are bent on undermining our democracy and destabilizing the federal government to satisfy their selfish interests is the alternative to losing my personal freedom, let the doors of jails be thrown open and I shall be a happy guest."
Presidency Reacts
Meanwhile, the Presidency in a quick response, dismissed Dr Saraki's claim of having a government within a government that has seized the apparatus of the executive power as pretentious and imaginary.
The Presidency challenged him to back his claim with more information by identifying those who constitute the government within the government.
As far as the federal government is concerned the Attorney General is the chief law officer of the state and it is within his constitutional power to determine who has infringed upon the law and who has not.
According to the President's media adviser Mr Femi Adesina, "Pretending to carry an imaginary cross is mere obfuscation, if, indeed a criminal act has been committed, we leave the court to judge."