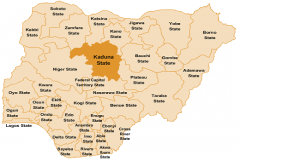 The Kaduna State government has released the report of the judicial commission of enquiry set up by the state governor to investigate the cause of of the December 12,2015 bloody clash between the Nigerian Army and members of the Islamic Movement in Nigeria (IMN).
The report, which was released on Sunday by spokesman to the state governor, Samuel Aruwan, said members of IMN are responsible for the clash and its liabilities.
The report, which was signed by all the members of the commission, also cautioned the Nigerian Army to carry out its operations in line with the rules of engagement in order to avert collateral damage.
The commission also recommended the trial of army personnel that were involved in the extra judicial killing of IMN members, as well as IMN members who took part in the killing of an army officer during the incident.
The report further recommended that such future operations by security agencies should be recorded in video form, adding that the police and other security agencies should be adequately trained to deal with civil disturbances in order to avoid a situation of dragging the armed forces into such matters.