Avengers Debunk Split Rumours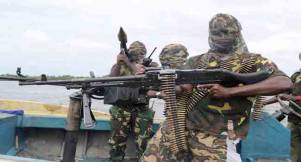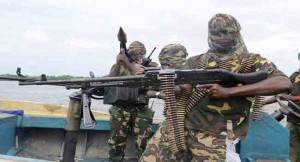 A militant group, Niger Delta Avengers, has dissociated itself from a group which claims it broke away from it.
The Avengers took to their new twitter handle on Saturday to announce that the new group, Reformed Niger Delta Avengers (RNDA), had never been part of them.
A tweet on their handle read:
The so-call Cynthia Whyte aka George Karley and his so RNDA has never been part or ally of NDA. He and his co-travelers are just wannabes.

— Mudoch Agbinibo (@AgbiniboND) August 6, 2016
The disclaimer comes after the RNDA said that it had decided to split from the Avengers after former President Goodluck Jonathan appealed to them to stop the attacks on oil installations in Nigeria's South-South region.
In a statement signed by one Cynthia White, they said that Nigeria would be amazed when they expose the identities of their leaders and sponsors.
Part of the statement read: "We have decided to join the MEND Aaron Team 2 peace initiative through the clearing house of Niger Delta Dialogue and Contact Group (NDDCG) headed by HRH King Alfred Diette-Spiff.
"We will also cooperate with the government by exposing the identities of our comrades who remain stubborn in their insistence to continue attacks.
"For example, it will shock the nation to know the Jekyll and Hyde personality behind the pseudonym 'Brigadier General Murdoch Aginibo' and our sponsors."
The Niger Delta Avengers is a militant group that has claimed responsibilities for a chain of attacks on Nigeria's oil pipelines which have not only affected the nation's economy negatively, but also neighbouring countries in West Africa.
In spite of appeal from various stakeholders in Nigeria and other foreign bodies, the group has refused to dialogue with the Federal Government.