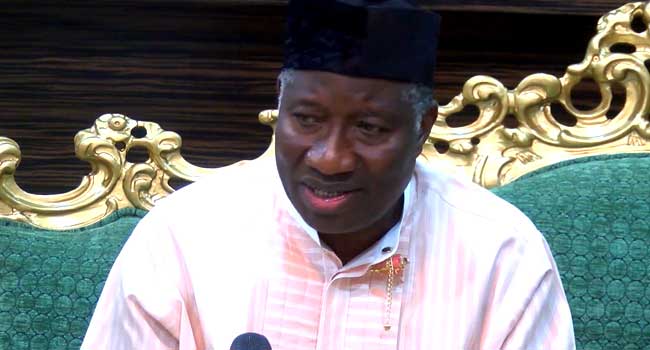 Nigeria's immediate past President Goodluck Jonathan on Sunday said some persons have launched a campaign aimed at tarnishing his image.
On his official Facebook page, the former President posted a disclaimer that a campaign of calumny has been launched against him by some persons who according to him are faceless and some identified.
"It has been brought to my attention that while I am away promoting democracy in Sierra Leone, a campaign will be unleashed against me to falsely impugn my name using both faceless and identified persons," his post read.
The former President's name has recently been mentioned in the media concerning some certain issues.
READ ALSO: PDP Has No Links With Cambridge Analytica, Election Manipulation – Fani-Kayode
An ex-employee of a UK-based company, Cambridge Analytica had claimed that the firm, influenced by an ally of former President Jonathan, interfered in Nigeria's 2015 elections.
Cambridge Analytica has earlier been accused of obtaining data of Facebook users for election manipulation, an issue which has raised specks of dust in various countries, including Nigeria.
The ex-employee of Cambridge Analytica claimed that the firm interfered in Nigeria's 2015 elections by hiring hackers to dig information about President Muhammadu Buhari who was a candidate of the opposition All Progressives Congress (APC).
The whistle-blower in an interview with Guardian UK did not reveal the identity of the person who paid Cambridge Analytica for its services but described him as a Nigerian businessman who wanted to ensure former President Goodluck Jonathan's re-election.
Also in Nigeria, Jonathan's administration has been in the news over alleged funds mismanagement.
Vice President Yemi Osinbajo had claimed that the former President's administration shared about N150 billion before the 2015 elections.
Professor Osinbajo made the allegations on Monday, last week while speaking on issues of corruption and past failures of governments at the 7th Presidential Quarterly Business Forum in Abuja.
In his disclaimer on Sunday, Jonathan did not mention names of the persons he claimed are campaigning to tarnish his image. He, however, emphasised that his political ideals of disdain for bloodletting and falsehood remain.
"When I was in power I said my ambition is not worth the blood of any Nigerian. Even out of power, I continue to hold that belief.
"What I will say, however, is that no matter how far and fast falsehood has traveled, it must eventually be overtaken by the truth. GEJ," his post read.
Jonathan has since not reacted to the claims by Buhari's administration or the allegations raised in the Guardian UK interview.
His aide, Reno Omokri in an interview on Channels Television's Programme Programme, Politics Today, however, countered claims by Vice President Yemi Osinbajo. He said the allegations are "completely false".