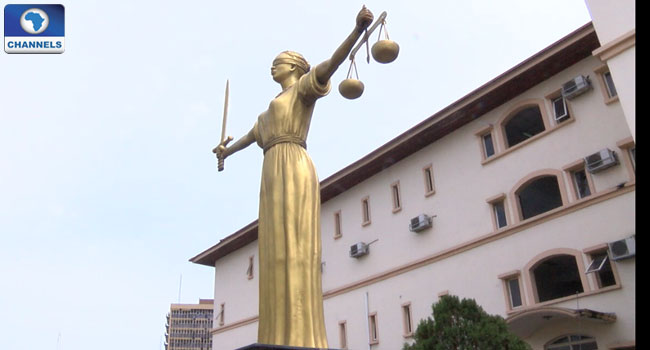 The trial of Waripamo-Owei Emmanuel Dudafa, the former Special Assistant on Domestic Affairs to ex-President Goodluck Jonathan, could not go on Tuesday at the Federal High Court in Lagos, owing to the absence of the EFCC's counsel, Mr Rotimi Oyedepo.
Presiding judge, Justice Muhammad Idris, told the court that he received a letter from the EFCC counsel seeking for an adjournment.
In the letter, Mr Oyedepo asked the court to grant the adjournment to enable him attend to an appeal filed by Senior Advocate of Nigeria, Mr Ricky Tarfa against the commission
Counsel to Mr Dudafa, Gboyega Oyewole, did not object to the request for an adjournment. He however informed the court that he was surprised that his client was not present in court.
Upon enquiry from the prison's officials, Mr Oyewole said he was told that Dudafa is seriously sick.
He complained about the EFCC treatment of his client.
Justice Mohammed Idris has granted the prosecutor's application and adjourned the matter till Thursday November 10, for the continuation of the defendants' trial.
Dudafa and one Iwejuo Joseph Nna, are standing trial before Justice Mohammed Idris on alleged 5.1 billion naira fraud.
In the first count, the defendants on or about June 11, 2013 in Lagos allegedly conspired amongst themselves to conceal the sum of 1.667 billion Naira said to be the proceeds of crime.
The Offence was said to be contrary to Section 18(a) of the Money Laundering (Prohibition) (Amendment) Act, 2012 and punishable under Section 17(a) of the same Act.
In the other charges, Mr Waripamo-Owei also allegedly used six companies – Seagate Property Development and Investment Limited, Avalon Global Property Development Company Limited, Ebiwise Resources, Pluto Property and Investment Company, Rotato Interlink Services and De Jakes Fast Food and Restaurant Nigeria Limited  – to conceal varying sums of money between June 2013 and April 2016.
The EFCC's Prosecuting Counsel, Rotimi Oyedepo, had listed 21 witnesses to testify against the defendants, including Representatives of some banks.