Niger Delta Avengers Deny Negotiating With FG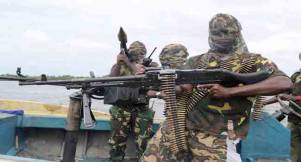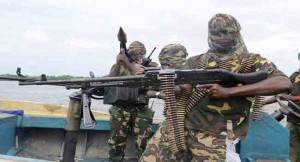 The Niger Delta Avengers have denied agreeing to enter into a dialogue with the Federal Government.
A statement issued by the self-acclaimed spokesman for the dialogue group, Mr Ballantyne Agiri, claimed that the group had agreed to enter into dialogue with the government.
However, the Avengers, in a tweet by their spokesperson, Mudoch Agbinibo, said that Mr Agiri's claim was a fabrication.
The militant group added that they do not know Agiri and that he cannot say that he was speaking on their behalf.
Earlier, another group, Reformed Niger Delta Avengers (RNDA) had purportedly announced its split from the Avengers.
The RNDA said they resolved to split after former President Goodluck Jonathan appealed to them to stop the attacks on oil installations in Nigeria's South-South region.
In a statement signed by one Cynthia White, they said that Nigeria would be amazed when they expose the identities of their leaders and sponsors.
In a swift reaction to the claim, the Avengers took to their new twitter handle to announce that the RNDA had never been part of them.
The Niger Delta Avengers is a militant group that has claimed responsibilities for a chain of attacks on Nigeria's oil pipelines which have not only affected the nation's economy negatively, but also neighbouring countries in West Africa.
Despite appeals from various stakeholders in Nigeria and other foreign bodies, the group has refused to dialogue with the Federal Government.