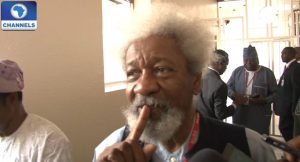 Nobel laureate, Professor Wole Soyinka, on Thursday held a closed-door meeting with President Muhammadu Buhari.
Professor Soyinka arrived at the Presidential Villa in Abuja, the nation's capital at about 11:00am local time and went straight to the President's office.
Addressing reporters after the meeting, he said he had come to see the President on some national, international and general matters.
When asked further questions, he promised to hold a press conference in few days.
"Right now, please, I will like to get away," he told reporters when they asked further questions.

The literary icon had last month voiced his support for President Buhari's fight against corruption, with a call for the imprisonment of corrupt politicians to serve as deterrent to others.
Professor Soyinka made the call while addressing reporters after the presentation of certificates and trophies to winners of the 7th edition of Wole Soyinka International Cultural Exchange Programme, held in Abeokuta, Ogun State.
He stated that the war against corruption should be more inclusive and that all other professionals should be part of the battle.