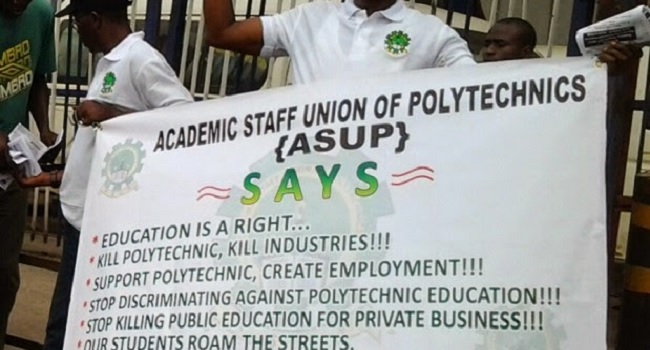 The Academic Staff Union of Polytechnics (ASUP) Zone D chapter has threatened to embark on an indefinite strike on Sunday August 21.
This was contained in a communique released at the end a meeting held on August 16 in Owerri the capital of Imo State in southeast Nigeria.
As contained in the statement, the Zone D of ASUP, which consists of all the polytechnics in the south-east and South-south states of the federation, said it had become necessary to embark on the strike following the non-implementation of the needs assessment report in 2014.
Shortfalls In Allocations
"There have been shortfalls in personnel allocations to polytechnics as well as unpaid allowances in federal polytechnics since January 2016. Since the turn of the year, members' salaries have been inconsistent without any plausible reason.
"To make matters worse, allowances negotiated with government and being earned since 2011 have not been paid.
"This is a wilful violation of our agreement with the government in 2010," the statement further read.
ASUP further said that one of the reasons for the strike was the "non-release of arrears of promotion in many public polytechnics with some dating back to 2012 as well as non-implementation of the migration salary scale in many polytechnics".
It also noted that the neglect faced by the polytechnic sector was a shameful one, as it had been a long and difficult one punctuated by long unproductive discussions with stakeholders, intermittent strike but with hardly any results.
ASUP further called on well-meaning Nigerians to prevail on the government at both the federal and state levels to comprehensively address these challenges in due course.