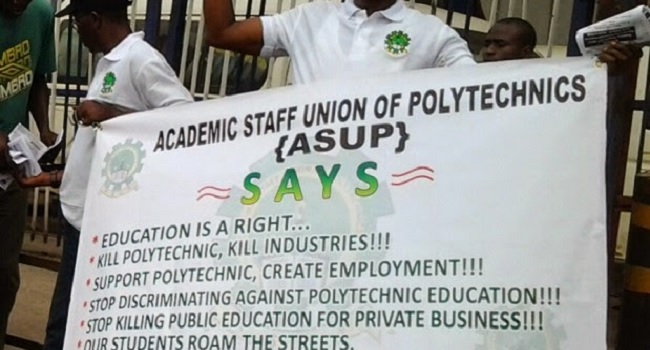 The Academic Staff Union of Polytechnics (ASUP) has announced plans to embark on a nationwide strike starting from August 22.
The union vowed to commence the industrial action, if the Federal Government fails to honour the agreement it reached with the union in 2013.
ASUP President, Mr Usman Dutse, disclosed this to reporters on Thursday at the end of a Zone A emergency meeting of the union in Kaduna State, northwest Nigeria.
He lamented that since the suspension of the protracted strike in 2014, the government is yet to address some of the core issues that necessitated the strike.
Mr Dutse urged the government to as a matter of urgency, address these issues in order to avoid another nationwide industrial action.
A communique read by the Zone A Coordinator of ASUP, Kabir Yunusa, noted that no significant progress has been made by government in resolving the issues.
The statement highlighted the issues to include the non-implementation of Needs Assessment Report of 2014, non-payment of salaries in many state-owned institutions, delay in the review of the Polytechnic Act and poor funding of polytechnics among other demands.
The ASUP President said that despite giving the government enough time when it came on board last year to settle down and address all pending issues, the present administration has showed no concern about the plight of lecturers, whose salaries were being reduced or owed in most federal and state polytechnics.