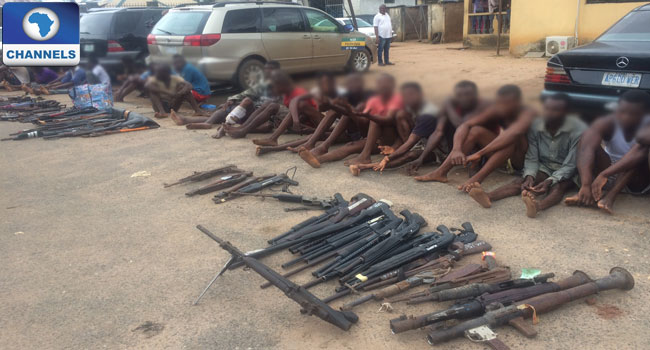 23 suspects have been arrested over the violent attack on a police by hoodlums from Abagana, a community in Dunukofia Local Government Area of Anambra State.
A security guard was shot dead and four police officers were wounded during the attack.
Briefing journalists at the Police Headquarters, Awka, the State Commissioner of Police, Mr. Sam Okaula, said over 200 hoodlums from Abagana, invaded neighbouring Ukpo Community in the same local government area and swooped down on a Police post, shooting and destroying properties belonging to the police.
Mr. Okaula said the hoodlums were armed with explosives and dangerous weapons and carried out "an act of terrorism following the magnitude of the attack".
He said a team of Explosive Ordinance Department (EOD) identified and defused an Improvised Explosive Device (IED), while still recovering another one at the scene.
The police boss also disclosed that one of the kingpins, one Mr. Amobi Ezekwe Ugbo, has been arrested.
It was gathered that the attack was as a result of a land dispute between Abagana community and Ukpo Community in which the land in contention had been sold to the Police by Ukpo community.
He, however, maintained that nobody should take the laws in his or her hands.
Recovered from the suspects where four pump action rifles with two live cartridges, three AK-47, three locally made pistols, cutlasses and other dangerous weapons.