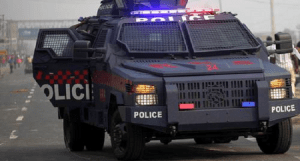 The Anambra State Commissioner of Police, Mr. Sam Okaula, has urged citizens of the state to take up the responsibility of catering to the welfare of the Police, especially the wives and children of officers who died in active service.
The Police Commissioner made this known while speaking at the premises of Rise Clinic, Adazi-Ani, Anaocha local government area of Anambra state.
He added that the education and medical bills of the widows and children of slain officers will be undertaken by the clinic, which is in partnership with the Anambra state government.
The Chief Medical Director, Dr. Emeka Okeke, says it important that the health needs of the police officers widows and their children be taken into consideration as it will be a morale booster to the police force.
The widows aside the assurances of free medical services, their children will also pass through scholarship examination that will be conducted in April.
Distribution of food items and financial assistance forms the high points of the occasion.
For the Commissioner of Police, it is the first time such is happening for the Anambra State Police Command and urged all citizens of the state to take a cue and ensure that the welfare of the police is considered, as it will go a long way to spur them to a better and efficient services.
The programme according to the organisers will be an annual event that will provide a platform to ensure that health care delivery and education will not be accessible to only the rich but to the poor as well.