Urban Agriculture : Inspiring And Innovative Hydroponic Farming System
Agriculture and Agribusiness are two words that have become prominent in Nigeria at this time, with government harping on the need for more people to buy into its economy diversification plan, which largely promotes agriculture. 
The government believes agriculture is a huge money earner for its teeming youth seeking employment.
This call, however, requires a new generation of farmers to come up with innovative ideas, to sustain the nation's economy which largely relied on agriculture for revenue before the discovery of crude oil.
One of such innovations is that of an epidemiologist who has decided to contribute her quota to providing fresh food for urban areas like Abuja, Nigeria's capital city, using a hydroponic system that enables her grow plants without soil.
Her efforts help to conserve land and water while providing a viable means of survival for the crops as well as creating job opportunities for the people.
Oil-rich Nigeria, which at the moment solely depends on crude-oil as its major source of revenue, has to diversify its economy in order to save it from recession.
The nation is exploring other means of revenue generation and youth empowerment with an intensified focus on agriculture sector.
Several reasons in time past, have forced youths to shy away from agriculture. However, it is slowly being embraced even more by the younger generation.
Epidemiologist turned environmental activist, Angel Adelaja, admits to the difficulty of accessing land, water and other things necessary for effective agriculture in the earlier stages.
She said these were some of the reasons she decided to explore the green housing system of agriculture.
In the bid to practice agriculture in a more simplified but efficient way, she sought to lower the barrier to entering into it, by reducing certain risks through the use of hydroponics and containerised farming.
A system generally known as Urban Agriculture, whereby plants are grown with their roots in mineral nutrient solutions and water only.
Urban Agriculture yIelds More benefits
According to her, the nutrients are from organic waste as well as other biodegradable wastes.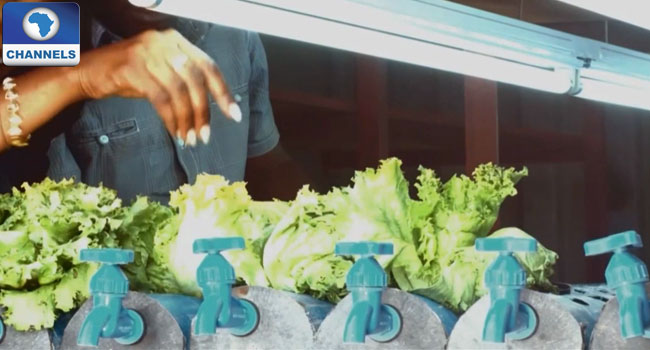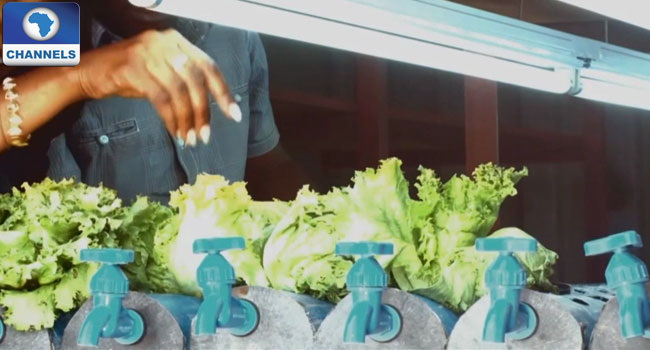 She gathers them from her poultry house, and deposits into the compost pit where she draws the solution which she adds into the hydroponic system.
So far, she has enjoyed more results than if she were operating in the traditional methods of agriculture.
She said it helped conserve space while yielding more crops.
In her words: "You would notice that one acre can usually do about 2,000 heads of lettuce, but with what we're doing here, one container is doing 3,000 heads of lettuce".
In a country such as Nigeria where food insecurity, poverty and migration have been persistent issues, Adelaja has been able to create a sustainable environment for not just herself but for her immediate community.
She yields at least 120kg per harvest monthly, and has slowly built a steady patronage from companies and individuals who purchase her vegetables.
Minimal pest attacks on her crops, land and water conservation, and a maximum eco-friendly practice are amongst some of the major benefits she enjoys from Urban Agriculture.