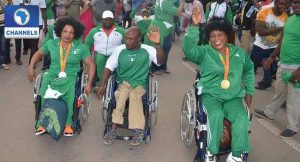 President Muhammadu Buhari has congratulated Team Nigeria for an outstanding performance at the Paralympic Games in Rio, Brazil.
President Buhari commended the athletes for doing the country proud by winning 12 medals and setting new records, which made them the top-performing African team at the 2016 Games.
The President acknowledged the resilient spirit of the Nigerian Paralympic athletes, who were able to excel in the face of adversity.
He applauded the athletes for their tenacity, focus and determination, which has brought glory to the country.
The President also expressed gratitude to all the officials and trainers of the Paralympic athletes, who made sacrifices and persevered to fly the country's colours.
Hundreds of Nigerians turned out at the Nnamdi Azikiwe Airport in Abuja to welcome the first batch of Rio 2016 Paralympics athletes who returned to Nigeria on Sunday.