Joint Task Force In Clamp Down Operations Against Boko Haram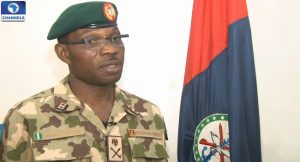 The Multi-National Joint Task Force is conducting series of military operations aimed at closing down the Boko Haram insurgents in the Lake Chad Basin.
Speaking to Channels Television in Abuja on Saturday, the force Commander, Major General Lamidi Adeosun, explained that the forces from the four states – Nigeria, Cameroon, Chad and Niger Republic – were working together to ensure that peace returned to the region.
General Adeosun further stated that the force was fully equipped by the Lake Chad Basin countries, with Nigeria fulfilling her pledge of $100 million to the mission.
He said: "Multi-National Joint Task Force is conducting serious military operations in conjunction with all the countries that contributed troops for the force.
"Initially the operation has been on sectoral basis but now it is joint.
"The operation is a kind of final onslaught to actually clear the free corridor of movement of Boko Haram because initially there were not foothold in Damasak Gashiga and other areas.
"As it is now, troops are in Gudunbari".

Military operations against Boko Haram terrorists received impetus few weeks before Nigeria's 2015 general election, with the current administration sustaining the tempo to fulfil its campaign promise of ending the over six years insurgency.
Boko Haram terrorists have attacked communities in northeast Nigeria, as they push for an Islamic State and an end to Western education in the region.
Military onslaught against the group has forced them to fall back to suicide attacks on softspots in the area.
On Friday troops of the Joint Task Force clashed with suspected terrorists, killing 15 of the them.
Two soldiers died in that gun battle.