Niger Delta Ceasefire: Military Warns It Will Respond To Any Attack On Its Location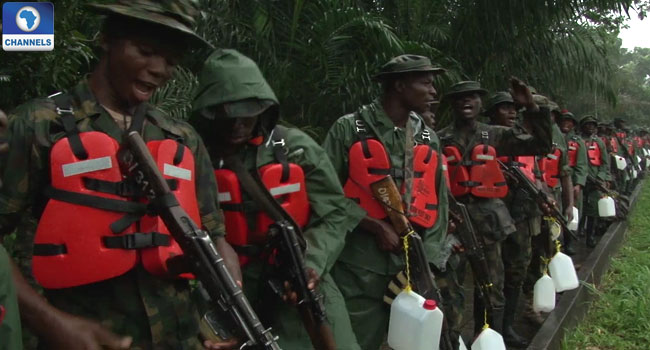 The Defence Headquarters has warned militants in Nigeria's Niger Delta region against attacking its location in the area even as they adhere to ceasefire while the militants negotiate with the Federal Government.
The military re-emphasised that it would continue to abide with the ongoing negotiation effort of the Federal Government with militants in order to have peaceful settlement of the Niger Delta problem.
In a statement by the spokesman for the Defence Headquarters, Rabe Abubakar, the military warned that while trying to end the crisis in the oil-rich region, it would not take kindly with any individual or group taking military's good gesture of adherence to ceasefire and peaceful disposition to the impasse for granted.
"Otherwise the military will respond proportionately to any armed attacks against its location in a decisive but professional manner in line with its constitutional mandate of defending innocent citizens as well as national critical infrastructure," the statement read.
The military further emphasised that it had the capacity to defend itself "just as it did recently when a group of misguided elements under the militancy guise attacked its location at Efut Esighi waterfront in Bakassi Local Government Area of Cross River State where they paid dearly for their evil act".
The Armed Forces also warned various belligerent groups in either the Niger Delta or any other part of the nation to desist from any act capable of jeopardising peace and security of Nigeria or "they will regret the consequences of their evil action".
It reassured Nigerians that it would continue to partner with peace-minded groups and stakeholders to bring lasting peace in any security threatened areas or locations.
The military had launched Operation Delta Safe and Exercise Crocodile Smile in the region to contain the activities of militants that resurfaced over a year ago.
There have been several attacks on oil facilities in the region, leading to a drop in oil output of the nation that relies largely on crude oil sales for revenue.
A group that calls itself the Niger Delta Avengers has claimed responsibility for most of the attacks.
Recently, it said it has agreed to a ceasefire and was ready for negotiation with the Federal Government.
But weeks after the ceasefire was declared, the group attacked another oil facility, saying it was carried out in protest of military harassment of youths in the region.