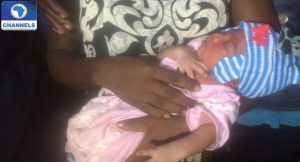 The Nigeria Security and Civil Defence Corps (NSCDC) has rescued an abandoned baby girl in Abia State, southeast Nigeria.
The infant was dropped by the mother with a letter that the baby should not be sold but handed over to motherless babies' home or any well-meaning Nigerian who can cater for her welfare.
Reacting to the development on Tuesday, the Abia State NSCDC Commandant, Walter Chika, noted that the right of every Nigerian child must be protected.
He revealed that the abandoned child was rescued by the Anti-Traffic Unit of the agency near a health centre in Avodim village in Umuahia South Local Government Area of the state.
Against Child's Right
The NSCDC Commandant urged young women to ensure that they were ready for child care before engaging in acts that could result into pregnancy.
He stated that abandoning children under the disguise of inability to care for them was a criminal act and against the right of the Nigerian child.
Mr Chika also called on the mother to show sympathy for the child who needed her love.
He disclosed that discussion was ongoing with designated ministry to take responsibility for the child.