Senate Condemns Arrest Of Judges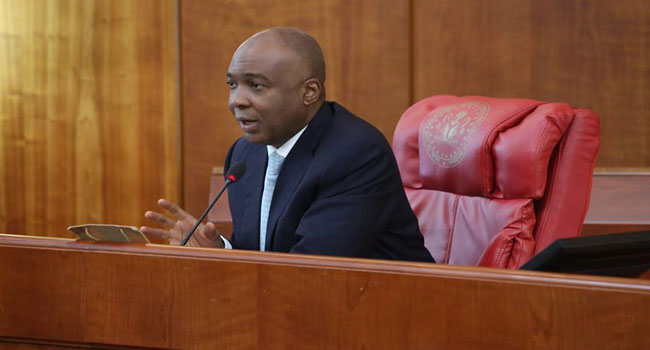 The Senate has condemned the draconian invasion of the homes, arrest and detention of serving judges by the directorate of the Department of State Security (DSS) without deference to the constitutional responsibility of the National Judicial Council (NJC).
The Chairman, Senate Committee on Judiciary, Senator Joshua Lidani, brought the matter of the weekend arrest of the judges before the Senate at the resumption of plenary on Tuesday.
Senate President, Bukola Saraki says the Senate is in full support of the fight against corruption but the government must ensure that the war on corruption must be done within the rule of law.
The Senate is mandating its Committee on Judiciary, Human Rights and Legal Matters to review all existing laws establishing security agencies and report back in four weeks.
DSS Releases Arrested Judges
The DSS has released all the judges arrested during a nationwide raid of their residents at the weekend.
The judges, according to DSS sources, were released on self-recognition but are to report at the agency's office when requested to, as the investigation and preparation to charge them to court continue.
The judges were accused of corruption and had been under investigation by the DSS.
A spokesman for the DSS, Abdullahi Garba, explained shortly after the raid in the early hours of Saturday that the service embarked on raids of the Supreme, Appeal and High Courts judges' residents based on allegations of corruption and other acts of professional misconduct.
According to him, "the Service's action is in line with its core mandate, as we have been monitoring the expensive and luxurious lifestyle of some of the Judges as well as complaints from the concerned public over judgment obtained fraudulently and on the basis of amounts of money paid.