Ogun Workers Begin Indefinite Strike Despite Amosun's Warnings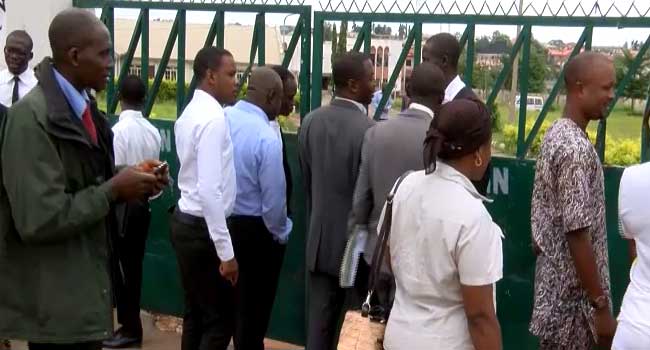 Workers in Ogun state have commenced an indefinite industrial action to press home their demands over an alleged non-payment of 12 months deductions.
Among other demands, the industrial action is also aimed at putting an immediate end to the contributory pension scheme.
When Channels Television visited the state government secretariat at Oke Mosan, Abeokuta, the state capital, it was revealed that some workers reported for work while others abdicated their duty post on the order of their leaders.
Commenting on the development, the Secretary to the State Government, Mr Taiwo Adeoluwa, described the action as illegal and uncalled for, saying that the government may initiate a 'no work, no pay' system as a punishment.
Mr Adeoluwa asked the workers to see reasons, especially in the face of the current economic downturn, restating that the government is committed to the welfare and care of the workforce.
Although the town seemed calm, security operatives were stationed at strategic places to maintain law and order as a result of the strike.
Ogun State Governor, Ibikunle Amosun, had earlier sent a strong warning to the leadership of labour unions in the state, over the proposed indefinite industrial action.
He gave the warning in Abeokuta, the state capaital, during a town-hall meeting for the 2017 budget, held at the cultural centre in the state capital.
He thanked residents for their understanding and the support shown towards his administration's policies and programme, while assuring them of more development in the coming fiscal year.