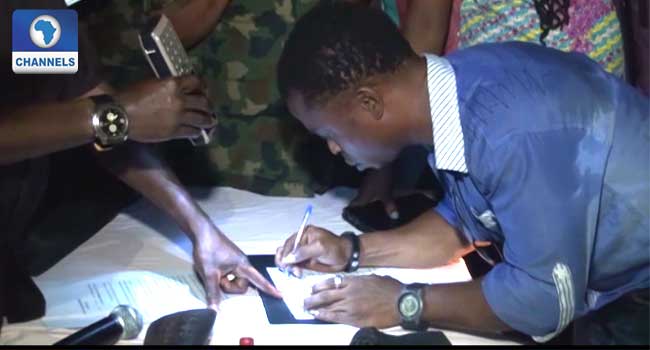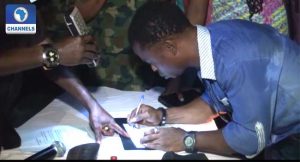 Hundreds of cultists and their gang leaders from Ikwere and Obio Akpor local government areas have joined the queue to embrace the Rivers amnesty programme offered them by the state government.
This came as the 3-month grace period given by the government draws to a close.
Notable among the latest repentant cultists are two gang leaders, known as Italian and Gunboat, who had earlier been declared enemies of the state for refusing to accept the amnesty programme.
The event, which lasted into the night, became rowdy at some point as the cultists and suspected criminals from Ikwere and Obio Akpor communities arrived to denounce their old acts.
The amnesty committee had to resort to the use of camera lights as day light began to fade away, coupled with the evening's rainfall.
The Special Adviser to the Governor of Rivers State on Amnesty, Kenneth Chinda, granted pardon on behalf of the state government.
He warned Justice Amadi also known as Italian and others who joined the amnesty queue to stay away from criminality henceforth.
The repentant Justice Amadi also replied, "from today I'm no longer Italian, call me by my name Justice" as he received his pardon.
The caretaker committee chairman of Ikwere Local Government Area, Samuel Nwonosike, then advised all those who have accepted the state's pardon to stay out of trouble.
He warned that anyone who goes back to crime would face the full weight of the law.
"They are safe as long as they don't go back to crime. But as soon as they go back to crime, the full weight of the law will come upon them," he said.
The Rivers amnesty programme continues to achieve success with hundreds of cultists having, one week earlier, denounced crime and criminality with arms and ammunition recovered in various local government areas.