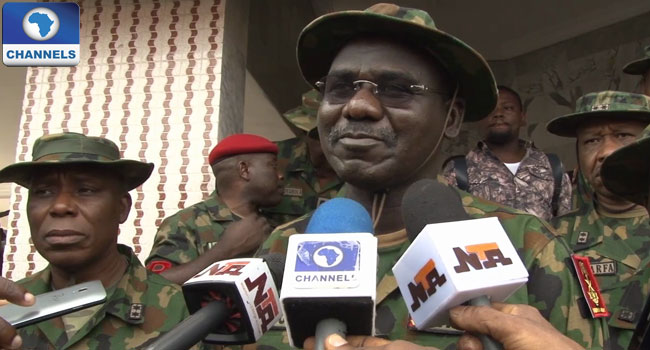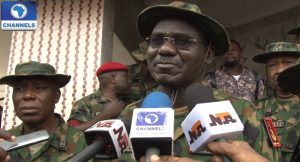 Chief of Army Staff, Lieutenant General Tukur Buratai, has attributed the re-appearance of high profile attacks in Nigeria's Northeast to the support that the Boko Haram terrorists get from some individuals.
The Army Chief emphasized an urgent need for a renewed local and international support to end terrorism in the country and globally.
He made the remarks at the sideline of a meeting with a security delegation from the Atlantic Council, African Centre in the United States of America.
"We have some elements who are within this society and are still supporting them clandestinely.
"So the support of every Nigerian is very key to the end of this terrorism," he stated.
General Buratai noted that the role of the Nigerian Army in prosecuting the counter-terrorism crusade in the northeast has been misinterpreted by some people.
"There have been many misgivings on the role of the Nigerian Army as it relates to human rights abuses, rules of engagement (as well as) treatment of civilians and Internally Displaced Persons.
"Hence, the need to conduct an assessment on the threats of Boko Haram insurgency in Nigeria with emphasis on roles of (the) Nigeria Army has become imperative," he said.
On his part, the leader of the security delegation, John Peter-Pham, emphasised the need to cut terrorists financing.
"As an American and as an analyst, I believe that there are few fights currently going on in the world today and that is important not only to Nigeria, but to its neighbours in the international community as the repression of terrorist financing which has not only caused untold human suffering but also, its a setback for regional integration and economic growth."
The meeting, which took place on Monday at the Army Resource Centre in Abuja, was convened to assess the threats of Boko Haram insurgency in Nigeria.
Prior to the meeting, Buratai had gone on an inspection tour on the quarter guard at the centre.