Fayose Condemns Fani-Kayode's Prolonged Detention By EFCC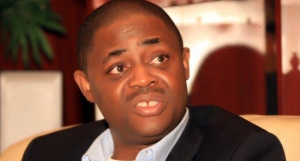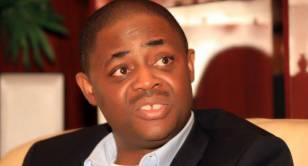 Ekiti State Governor, Ayodele Fayose, has condemned the continuous detention of former Minister of Aviation, Mr Femi Fani-Kayode, by the Economic and Financial Crimes Commission (EFCC).
He described Fani-Kayode's detention as unlawful and an act against democracy.
After visiting the former minister at the EFCC office in Abuja, Governor Fayose asked the Federal Government to uphold justice and the fundamental human rights of its citizens.
'Spirit Of Justice'
"I just want to say that deliberate incarceration of people, especially on matters that are bailable is not the best.
"He (Fani-Kayode) was incarcerated for almost two months ago and he came to court willingly for you to see that (he is) a man who is not ready to jump bail being re-arrested and locked up for close to another one month.
"That is not the spirit of justice, justice did not intend that and I want to appeal to the leaders of the country (and) the EFCC to please let us respect the rights of humanity.
"The rights and constitution of a country comes first over and above any offence you want to contemplate.
"This man is going to face justice, he is going to face the court at the same time (and) why do you have to continue locking him up?
"It gets very personal at some point and you begin to ask where the right of Nigerians is," Fayose said.
Mr Fani-Kayode has been in the custody of the anti-graft agency since Friday, October 21 when he was re-arrested in the premises of the Federal High Court in Ikoyi, Lagos.
The arrest has triggered reactions especially from several Peoples Democratic Party faithful.