EFCC To Cleanse Electoral System, Arriagns 100 INEC Officials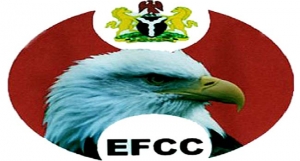 In efforts to cleanse the electoral system, the Economic and Financial Crimes Commission, (EFCC), has begun the arraignment of over 100 electoral officials.
According to reports, the commission is set to charge officials who had received bribes from the $115 million, allegedly disbursed by Diezani-Madueke, a former Minister of Petroleum Resources, during the countdown to the 2015 general elections.
The acting Chairman of the EFCC, Mr Ibrahim Magu and the Chairman of the Independent Electoral Commission (INEC), Professor Mahmoud Yakubu, would be meeting in Abuja to finalize the charges that would be filed against the suspects.
This was revealed through a statement by the Media Coordinator, Coalition Against Corrupt Leaders, (CACOL), Wale Salami.
In reaction to the trial, CACOL has asserted that electoral crimes serve as precursors for corruption in governance.
Executive Chairman of the Coalition, Mr Debo Adeniran, commented on the happenings saying, "from these reports, it can be easily deduced that Nigeria's democracy is regularly put up for auction to the highest bidder".
He added that, "any electoral official that perpetrates political corruption, which usually leads to the throwing up of corrupt government are culpable in helping looters to the corridors of power.
"They easily put up the mandate of the people up for sale. For years, Nigerians have remained victims of bad leadership which has a strong linkage to failures and corrupt practices perpetrated by electoral officials mostly during elections.
"We commend the EFCC for not leaving any stone unturned in their investigations, while also calling for the prosecution of Diezani-Madueke, and every other electoral officials that took the bribe.
"In the same vein, we are urging the INEC Chairman, Professor Mahmood Yakubu, to begin a review of the electoral commission in order to come up with ingenious protocols to forestall or eradicate any corrupt tendencies in subsequent elections.
"If we do not cleanse our government and electoral process from corrupt elements, then our government would inevitably become a den for thieves."
He concluded by stating that: "the anti-graft agency and the electoral commission should continue to publish the names of all officials who received bribes so that Nigerians can identify them as the dishonest lot who sold the peoples' mandate to the highest bidder.
"We call on the government to cleanse the electoral system to forestall corruption in governance," Adeniran said.