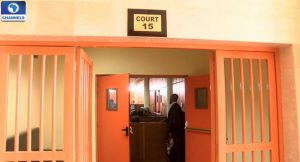 The trial of Justice Rita Ofili Ajumogobia at the Lagos high court sitting in the Ikeja, was almost stalled on Monday after the defense counsel, Mobolaji Kuti, stated that the application filed on January 9, 2017, asking the prosecution to produce additional evidence had not been certified.
The prosecution however argues that the additional proof of evidence has been served on the defense, therefore the trial should go on.
The first prosecution witness, Ademola Oshodi, again detailed in court how monies were debited and credited from corporate accounts belonging to Nigel and Colive in which Justice Ofili-Ajumogobia, is the signatory.
Oshodi, during examination stated that from the month of May 2014, several millions of Naira were moved into the corporate account by the accused persons on different occasions.
Presiding Judge, Justice Hakeem Oshodi, adjourned the case till March 10 and 17, 2017 for cross examinations.
He also ordered a temporary release of Godwin Obla's, international passport, to allow him travel, under a condition that it must be returned by March 6, 2017.