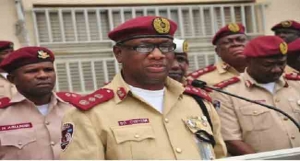 The Federal Road Safety Commission (FRSC) says it is taking steps to arm its roadside personnel for their safety.
The Corps Marshal of the Federal Road Safety Commission, Mr Boboye Oyeyemi, made this known after detailing an increased rate of personnel casualties at the commission.
This was one of the issues that emanated from the year-ending strategy session convened by the Federal Road Safety Corps (FRSC).
Bringing together all state commanders and sector heads of the FRSC, Corps Marshal Boboye Oyeyemi noted that 2016 has seen an unprecedented rate of intentional violence against Road Safety officials.
With the implementation of a reviewed road safety enforcement strategy, the FRSC has recorded an unprecedented 25% reduction in road fatalities and a 15% reduction in road accidents.
In actual terms, there were 4,005 deaths and 7,657 road crashes at the end of the 47th week in 2016. And while progress has been made with greater operational efficiency, unprovoked vehicular criminality has proven much more difficult to check.
He emphasized that with the death of over 70 FRSC personnel in 2016 alone, there has been an increase in personnel casualties at the hands of motorists who drive on the wrong side of the law.
The Corps Marshal emphasized that such violent acts would soon be met with the full force of arms.
He made it clear that the act establishing the commission allows them to bear arms.
While the FRSC intends to protect road users, they believe recent trends necessitate measures that will safeguard the guardian; measures they hope would eliminate unjustifiable acts of violence against their personnel.