The Police in Abia state say their intelligence-led policing and visibility policing have led to the arrest two suspects involved in stealing and trafficking of a four-year-old boy.
The CP Adeleye who returned the boy to the parents, frowned at the spate of child stealing which he described as a crime against humanity.
At the parade of the suspected child traffickers at the officer mess, Umuahia, the Commissioner of Police, Adeleye Oyebade disclosed that there is no hideout in the state for such criminals and urged the public to seek out the proper and conventional adoption services.
"I have said it, that there are crime that are against inhumanity, child trafficking, child selling, baby factories, are crimes that you do not want to hear about because they are demeaning and done out of wickedness,
"But the police command in Abia are going to fight them until the perpetrators desist from such act.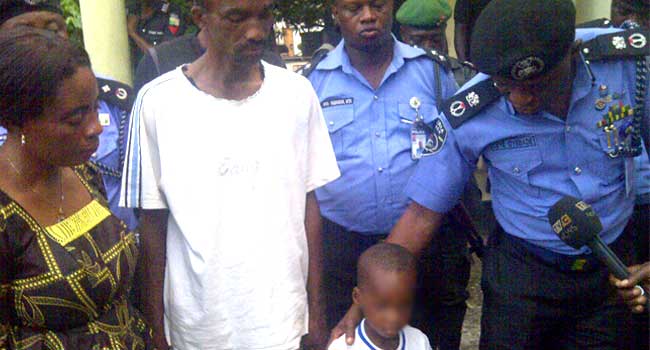 "I want to urge all parents to monitor their children to ensure that the care given to them would be such that there would be no temptation whatsoever to sell or buy the children under whatever circumstance
"I want to warn that I will not close my eyes to such criminal act and I have directed the officers of the command to apprehend anybody involved. Enough is enough.
"Follow the right procedure, go to the adoption services if you need a child," he said," he said.
Meanwhile, it was all tears for the one of the suspect, a 50-year-old Mrs Chioma Ohajimmadu who lamented that she had two girls and desperately wanted a boy by all means.
The Abia State Police Command in its  determination to rid the state of criminals says it has adopted strategies aimed at facilitating its position on crime management, the implementation of which have assisted the police command in the performance of its constitutional duties.