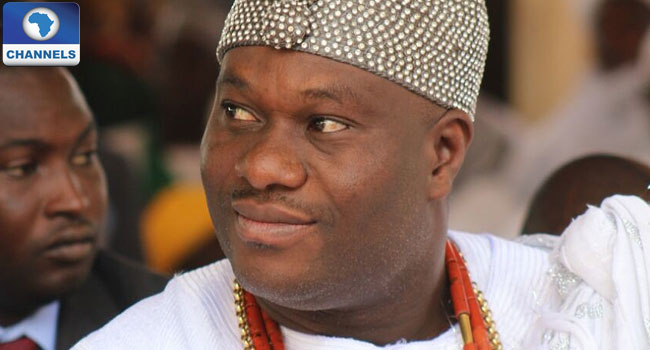 The Ooni of Ife, Oba Adeyeye Enitan Ogunwusi electrified the orientation camp of the National Youth Service Corps (NYSC) in Ede, Osun State when he visited the 2016 Batch 'B' Corps members to motivate and encourage them to aim high and aspire to be the best in life.
The Corps members were excited when they saw the Ooni who came to the NYSC camp with his usual retinue of royal entertainers who were singing and dancing to the amazement of the Corps members and the NYSC officials.
Corps members took turns to pay homage to the Ooni according to Yoruba tradition and the monarch showered royal blessings on them.
The Corps members exhibited the items they produced under the Skills Acquisition and Entrepreneurship Development (SAED) programme and Oba Ogunwusi commended the initiative.
Ooni thrilled the Corps members when he decided to leave his seat at the pavilion and insisted that he would stay under the sun to address the gathering since majority of the Corps members were also in the sun.
Before proceeding to address the Corps members, Oba Ogunwusi called for a minute silence in honour of all Corps members that have died during their service year, especially an indigene of Osun State, Ifedolapo Oladepo who died in Kano during the ongoing orientation exercise.
While speaking, Oba Ogunwusi charged the Corps members to be focused and strive to be successful in life regardless of their shortcomings.
He advised them not to be deterred by the current economic situation of the country and urged them to contribute their quotas to national development.
He advised the corps members not to wait for white-collar jobs so as not to be disappointed since there are no jobs in the labour market
He narrated how he hawked rice, vegetable oil and sugar in popular markets before he met influential Nigerians like Alhaji Aliko Dangote and Dr Deji Adeleke who saw his vision and contributed to his success story.
His words, "I'm excited to be in your midst today, gentlemen Corps members. 21 years ago, I wore this uniform that you are wearing today.
"I served in Makurdi, Benue State. I know you would also be great in life. There are presidents, governors and ministers among you. Please be positive and pursue your vision diligently.
"After my NYSC, I decided that I would be an entrepreneur and that was why I did not seek employment when my mates were looking for jobs in the accounting firms. I was very popular at Agbeni market in Ibadan where I hawked rice, sugar and vegetable oil before I started selling cement.
"As a graduate of Accounting from the Polytechnic of Ibadan, I was hawking in the market and I was able to make a difference because of my educational background. I eventually met influential Nigerians like Alhaji Aliko Dangote and Dr Deji Adeleke from Ede here and my story changed.
"You can also make it if you are positive. Just be focused and determined. Don't allow any condition to take away your dream. I faced serious challenges when I became a father at 19. I needed to survive along with my daughter and we were able to make it.
"My daughter is a graduate like you and she is currently at the NYSC orientation camp in Abuja. So, you can make it regardless of the circumstances."
The State Coordinator of the NYSC in Osun state, Mrs Regina Iluebbey, lauded the Ooni of Ife for his exemplary leadership among the Yoruba Obas. He also commended the monarch for sharing his story with Corps members as a motivation.
Iluebbey said a total of 2,276 Corps members comprising 1,238 males and 1,038 females were registered for the orientation course in Osun and the exercise was hitch-free and successful.