NNPC, IOC Sign Cash-Call Exit Agreement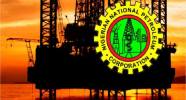 The Nigerian National Petroleum Corporation (NNPC) and International Oil Companies (IOC) have signed an agreement to exit the Joint Venture Cash-Call Arrangement.
This brings to an end, the NNPC's counterpart funding for 60% equity shareholding it owns in various oil and gas fields in international and indigenous oil firms.
The agreement was signed on Thursday in Abuja between the national oil company and Shell Petroleum, Nigeria Agip Oil, Total, Chevron and Exxon Mobil.
It is coming barely 24 hours after President Muhammadu Buhari announced that the Federal Government would cut provisions for the Joint Venture Cash-Calls, starting from January 2017.
The Minister of State for Petroleum, Dr. Ibe Kachikwu, noted that a governance process would be set up with immediate effect, to manage a new funding mechanism that would provide for cost recovery.
The NNPC Group Managing Director, Maikanti Baru, on his part, explained that the exit has set the stage for a review of the cash-call agreement.
He added that it has also created an opportunity for the adoption of a more sustainable funding arrangement with international oil companies' joint venture operations.
Cash-calls is a counterpart funding the NNPC pays annually for the 60% equity shareholding it owns in various oil and gas fields operated by IOC and indigenous oil firms.
In 2016, underfunding for cash-calls amounted to $2.5 billion, bringing the national oil firm's total cash-call arrears over the years to $8.5 billion.