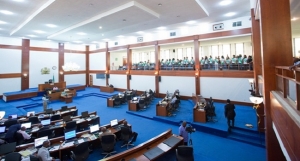 Senator Magnus Abe has asked lawmakers elected under the All Progressives Congress (APC) that are yet to be sworn in in Rivers State House of Assembly to match to the assembly and take their seats if the speaker fails to swear them in.
He told Channels Television that there was no provision in the constitution that required a swearing in before a member could function in the legislature.
According to him, "swearing in is just a ceremony".
Senator Abe, representing Rivers South East Senatorial District, said the option became expedient following what he called the insistence of Governor Nyesom Wike that the Speaker of the Rivers State House of Assembly would not swear them in.
"If the Speaker will not swear them in, they will match into the House of Assembly and take their place because they have been returned," he insisted.
Right To Participate
Senator Abe condemned the decision of the Governor of Rivers State and the Peoples Democratic Party (PDP) not to swear in the duly elected APC members of the Rivers State House of Assembly, describing it as rascality and impunity.
"This kind of rascality and impunity that we are experiencing in Rivers State will not be allowed and tolerated," he told reporters.
Senator Abe urged well-meaning Nigerians to condemn the actions of the governor, claiming it could derail democracy.
He contended that swearing-in of members of the House was not constitutional but ceremonial, arguing that in the absence of the swearing-in, the elected legislators have the right to participate in the deliberations.
"There is no constitutional requirement for swearing-in lawmakers in the country. It is a ceremony, which the Speaker may perform if he so chooses. If he chooses not to swear them in, that cannot in anyway de-ligitimise their membership of the House of Assembly. So, the Speaker has a choice.
"He can swear them in, which is what he is expected to do as the Speaker of Rivers State House of Assembly or he can refuse and they will go into the House of Assembly and take their seats without his permission because he has no right to sit as a tribunal over the return of any legislator," he added.
The statement by Senator Abe is coming at a time that Governor Wike is claiming that some politicians in the state are threatening the peace of Rivers State.