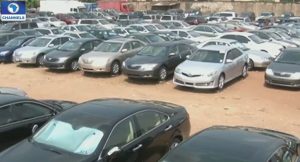 The Nigerian Customs Service has kicked off with the implementation of government's ban on vehicles importation through land borders.
The policy took effect on January 1 with officers deployed to man targeted smuggling routes mainly around the Seme border.
Media reports also say illegal checkpoints and routes have been dismantled while the Customs officers look to work closely with anti-smuggling units of the NCS and that of the federal operations unit.
However, Nigerian licensed Customs agents are calling for a three-month grace period before the implementation.