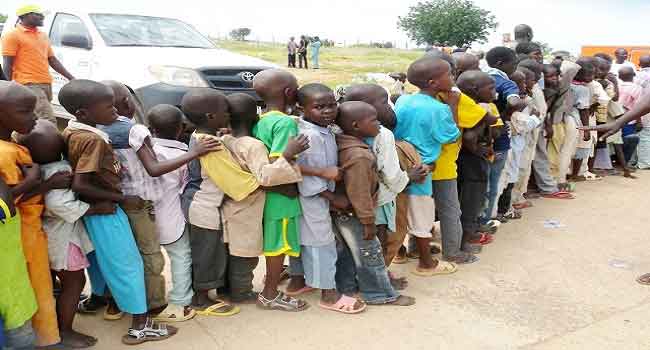 Some children believed to be victims of human trafficking have been rescued by security operatives in Jos, the Plateau State capital.
The rescue was made after two trucks conveying the minors were intercepted by the security agents at a check point.
The children – all male and within the age range of four to eight years – were rescued by members of the Special Task Force, Operation Safe Haven.
The spokesman for the Plateau State Police Command, Mr Mathias Tyopev, told Channels Television that they were being transported from other states to states within the north central region, with Plateau as a major route.
"On Thursday January 12, 2017 the special task force, Sector Two, located opposite University of Jos, intercepted two trucks conveying 135 children from Bauchi and Jigawa states to Plateau, Kaduna and Nassarawa states.
"Our investigations further reveals that these children who are all male were to be taken to places where the three mallams, who were coordinating the movement, have not even visited," he said.
Channels Television's correspondent discovered that the children were being transported in a truck ordinarily meant to carry farm produce such as grains, animals and other goods across the states.
It was converted to convey the minors under harsh and unfavourable weather conditions in which the children were stacked alongside grains without any comfort for such long distance journey.
Since their rescue, the children have been in the custody of the Nigeria Police at their headquarters in Jos, while investigation into the matter continues.
They were seen with the Plateau State Police Commissioner, Mr Peter Ogunyanwo, who was supervising the distribution of food and other welfare materials to them.
The suspects, comprising two drivers, eight conductors and three accompanying instructors are still in the custody of the Police and they have been providing information about how they came about the children and their destination.
The Police say it would soon embark on the process of establishing contact with the state governments of Jigawa and Bauchi for the return of the children to their parents.