Funds Diversion: An EFCC Detective's Testimony Against Amosu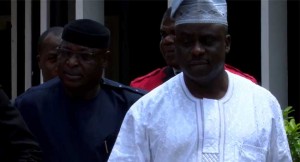 A witness has told a court how a former Chief of Air Staff, Air Marshal Adesola Amosu, and two other Air Force chiefs, diverted the sum of three billion naira paid to the Nigerian Air Force by the Nigerian Maritime and Safety Agency (NIMASA).
Mr Tosin Owobo, an Assistant Detective Superintendent with the Economic and Financial Crimes Commission (EFCC), said the money was paid in response to a request made to the Director General of NIMASA at the time, Mr Patrick Akpobolokemi, by Air Marshal Amosu for assistance on maritime security.
The EFCC detective, a third prosecution witness, made the testimony on Wednesday in continuation of the trial of the former Air Force chiefs at the Federal High Court in Lagos State, southwest Nigeria.
He informed the court that investigations revealed that there was a Memorandum of Understanding between NIMASA and the Nigerian Air Force.
In furtherance of the memo, NIMASA in 2013 paid the sum of one billion Naira and 480 million Naira to the Nigerian Air Force under the leadership of former Chief of Defence Staff, Air Chief Alex Badeh.
In continuation of the agreement in 2014, the EFCC official testified that Mr Amosu wrote to Mr Akpobolokemi, requesting four billion Naira, as the cash amount needed for maritime security.
Mr Akpobolokemi was said to have instead approved the payment of three billion Naira, a sum which was reportedly released in three tranches of one billion Naira each between August and September 2014, and paid into a Nigerian Air Force Special Emergency Operations Account.
The witness added that authorisation for the three billion Naira to be paid into the special account was given by the Director of Accounts, Air Vice Marshal Jacob Bola Adigun, the second defendant in this case.
He, however, said that the monies were purportedly transferred from the special account to various oil and gas companies, all of whom have now been listed in the charge alongside the three Air Force chiefs.
The court admitted in evidence, the statements of accounts of the oil companies allegedly involved.
However, a move by the EFCC Counsel, Rotimi Oyedepo, to get the witness to delve into some of the content of the documents was rebuffed by the defence team.
The defence counsels objected the move on the grounds that the witness was not the maker of the documents neither was there an authentication obtained.
Justice Mohammed Idris consequently adjourned till Thursday, February 26 to rule on whether the witness can answer questions based on the documents and for continuation of the trial.