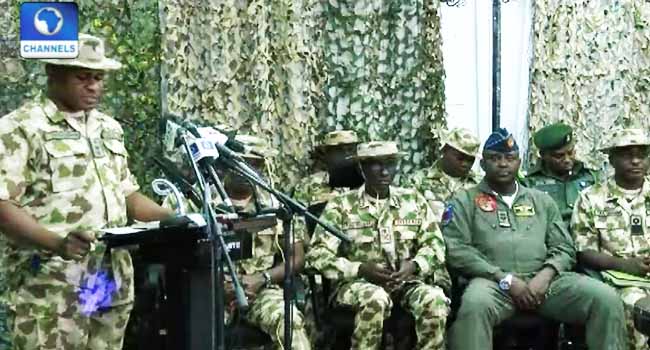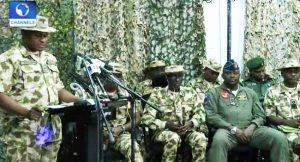 The Nigerian Army under the Operation Lafiya Dole, has said that the cleaning up of remnants of the Boko Haram Terrorists in the northeast, has continued to yield positive results.
Theatre Commander of the Operation, Major General Lucky Irabor, stated this at the Army's weekly briefing which took place on Thursday in Maiduguri.
He said, the Army has intercepted a letter written by the terrorist group seeking support in arms and ammunition.
Recalling an unfortunate incident that recently occurred, Irabor said: "Inspite of the regrettable occurrence of 7th January 2017 at Rann, our gallant troops have continued to gain traction by recording success in our operational engagements."
With respect to the Rann incident, Irabor further stated that an emergency response team was established afterwards.
"A well co-ordinated response, involving the troops of Operation Lafiya Dole, United Nations Office Of the Co-ordination of Humanitarian Affairs, the ICRC, MSF and Borno state government was initiated.
"A surgical centre was established in Rann to help stabilise the wounded before being evacuated to Maiduguri."
Also according to him, "On the 19th of January, a Federal Government delegation, led by the Chief Of Staff to the President, which also included the Ministers of Defence and Information, the Chief of Defence staff, and the service chiefs, paid condolence visits to the Governor of Borno state, and Humanitarian agencies at the UN OCHA office in Maiduguri, where on behalf of Mr President, the message of condolences were delivered.
He then used the opportunity to appreciate the government as well as people of Borno state for their understanding over the mistaken air strike that led to the death of about 112 persons as stated by him.
Stating some of their achievements, the Army boss said: "On the 14th of January, troops recovered several items such as a General Purpose Machine gun, AK 47 rifles, 2,269 rounds of 7.62 meter ammunition, RPG bombs, among other equipment.
Five Boko Haram members were killed including two who were suicide bombers.
Also on January 23, troops were said to have attacked Borko Haram terrorists and nine of them were eventually killed.