U.S. Africa Command Pledges Support For Nigeria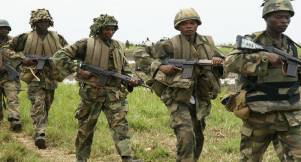 The United States Africa Command has announced a strong commitment to Nigeria in its battle against insurgency, as well as other countries of the Lake Chad basin.
The Commander of U.S. AFRICOM, General Thomas Waldhauser, noted that information sharing with the Multinational Joint Task Force (MNJTF) was part of a continuous strategy to combat terrorism.
He told journalists after a lecture organised for Course 25 at the National Defence College, Abuja that the U.S. would continue to participate in the insurgency fight, as long as reports of progress tallies with the actuality.
Although General Waldhauser said intelligence of the military has in many ways come under scrutiny, he reiterated the need to enforce partnership with Africa towards development.
On his part, Commandant of the defence college, Rear Admiral Samuel Alade, said sharing information and an overall goal to develop capacity was very much the target for the command.
Other speakers at the event also stressed the need for the government to reinforce its initial push against Boko Haram terrorists with the support of friendly countries like the United States.