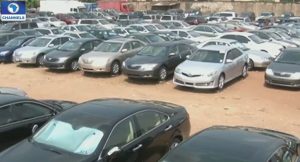 The House of Representatives says it will review the National Automotive Policy, in order to set an effective implementation framework and incorporate a number of suggestions offered by local automakers and other stakeholders in Nigeria.
The lawmakers made the resolve as industry players in the automobile sector sought for a ban on importation of used vehicles through land boarders.
Speaking to reporters during a visit to Peugeot Automobile Nigeria in Kaduna State, the House Committee Chairmen on Customs and Special Duties, Rufai Chanchangi and Hussein Dangiwa, maintained their position on the ban on importation of vehicles through land boarders.
They also directed the Nigeria Customs Service to intensify surveillance within the borders, with a view to ensuring that import duties were collected from vehicles entering into the country.
The lawmakers said their visit was to get an in-depth knowledge about the operations and challenges of auto companies across Nigeria, and to see how such problems can be addressed to revive vehicle assembly operations and develop local content.
The Managing Director, Peugeot Automobile Nigeria, Mr Ibrahim Boyi, noted that a ban on the importation of used cars will boost local production of vehicles.
Mr Boyi, who was represented by the General Manager of Strategy, Bawo Omagbese, expressed worry at the influx of used vehicles into Nigeria which he said has a consequence on local assemblers.
He appealed to the National Assembly to make laws that would enhance the growth of local industries, stressing that it would greatly contribute to the growth of Nigeria's economy.
The auto policy, which was introduced by the administration of former President Goodluck Jonathan to encourage auto firms to set up assembly firms in Nigeria, had been criticised by some stakeholders,
For about a year, there has been no official pronouncement on whether it would be retained or cancelled.