Falana Berates Senate For Customs Boss' Summon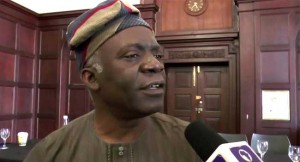 More reactions continue to trail the summoning of the Comptroller-General of the Nigeria Customs Service, Colonel Hammed Ali (rtd), who was asked to reappear before the Senate in appropriate uniform on Wednesday, March 22.
This time, a Senior Advocate of Nigeria, Mr Femi Falana, in a statement condemned the summoning of Mr Ali by the Senate.
He said although the Senate should not be treated with disdain, but the Upper Chamber should have appreciated the limit of its powers under the constitution.
According to the senior lawyer, instead of playing into the hands of the Customs boss by invoking the provision of Section 88 of the Constitution, the Senate could have summoned the Minister of Finance, Mrs Kemi Adeosun, to justify the policy of the Nigeria Customs Service, a parastatal under her supervision.
"No power exists under the section for general investigation, not for personal aggrandizement of the House. So the appellants were not entitled to have invited the respondent in the first instance," Mr Falana said.
He noted that the Senate was not conducting an investigation but challenging the policy of the Service on payment of duties.
"With respect, the summons served on the CGC (Mr Ali) is illegal and unconstitutional as it cannot be justified under Section 88(2) of the Constitution", he stated.
The lawyer stressed that the Senate engaged in another illegality when it exceeded its powers by asking the CGC to appear before it in customs uniform.
He added that neither the constitution nor the rules of procedure of the Senate has conferred on the Upper Chamber, the power to compel Mr Ali to wear Customs uniform when he is not a serving customs office.
Mr Falana said the directive was a reckless usurpation of the powers of the board which was the only competent body to decide on the wearing of uniform by Customs officer.
He noted that the Nigeria Customs Service should be directed by the Minister of Finance to cancel the illegal policy on payment of appropriate excise duties.
The senior lawyer stated that if the Federal Government fails to do so, he will challenge the policy at the Federal High Court.
This followed the uproar that trailed the Customs' directive that duties be paid on imported vehicles.
While Nigerians expressed concerns on the issue, their representatives in the Senate were livid over the insistence of the Nigerian Customs Service to go ahead with the policy.
Although Mr Ali honoured an invitation by the lawmakers, the Senate refused to engage with him for his failure to wear the Service's uniform as earlier directed.
The lawmakers consequently asked Mr Ali to reappear before them on Wednesday in appropriate uniform.