Traffic Warden Promoted To Inspector Rank In Bayelsa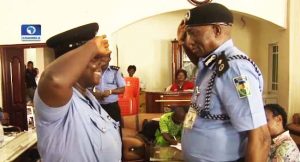 A traffic warden, Helen Moyegbon, posted to the streets of Yenagoa, the Bayelsa state capital, has earned an automatic promotion to the rank of an inspector by the Bayelsa State Police Command.
The promotion is coming on the heels of several awards and certificates of recognition she has received from the public, corporate organisations and recently, the Bayelsa state government.
Road users who spoke to Channels Television also attested to the fact that the traffic warden is indeed diligent with her work. They also added that whenever she was on duty, they experienced less difficulties on the roads.
The Inspector General of Police directed the she be elevated in rank to serve as a morale booster for her and motivation to other officers.
M
oyegbon on her part, expressed gratitude to the general public for the various awards given to her which she said, led to her being recognised by the IGP. She noted that with the promotion, she would be motivated to do more.