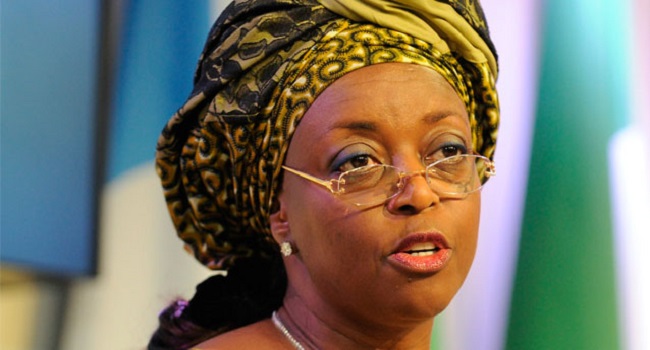 The Federal High Court Sitting in Lagos has fixed November 1, to rule on an application filed by a former Minister of Petroleum Resources, Mrs Diezani Alison-Madueke.
Alison-Madueke in the case is urging the court it to compel the Attorney General of the Federation to bring her back to Nigeria to defend a criminal charge bordering on alleged laundering of N450 million.
Justice Rilwan Aikawa fixed the date after listening to the objections filed by the Economic and Financial Crimes Commission (EFCC) to the move.
READ ALSO: BREAKING: ECOWAS Court Awards N88bn Damages Against FG Over Civil War Landmines
In opposing the application, the EFCC argued that the application is an abuse of the process of the court.
They further contended that the procedure for bringing a defendant who is outside Nigeria, before the court is the process of extradition proceedings which has not been instigated by the relevant authorities in this case.
As such, Mrs Diezani's application to be brought back to Nigeria to defend herself cannot be a substitute for the extradition order and proceedings especially as the Court cannot make an order against the government of the United Kingdom for the extradition of the applicant.
It will be recalled that Allison-Madueke had travelled to the United Kingdom shortly after leaving office in 2015.
Through an application filed on her behalf by her lawyers, she said she would like to appear in court in Nigeria to defend herself in the charges made by the EFCC against a Senior Advocate of Nigeria, Mr. Dele Belgore; and a former Minister of National Planning, Prof. Abubakar Suleiman.
Belgore and Suleiman were charged before Justice Rilwan Aikawa for allegedly collecting N450 million from Diezani and laundering same in the build-up to the 2015 general elections.
The EFCC which filed the charges claimed that the N450 million was part of a sum of $115 million which Diezani allegedly doled out to compromise the 2015 general elections.
The SAN and the professor were arraigned on five counts, whereas Diezani's name was mentioned, but she was declared as being "at large."
In her application seeking to be joined as a defendant in the charges, the former Minister argued that since her name had been mentioned in the charge, it would be against her right to the fair hearing for the case to proceed without affording her the opportunity to defend herself.
She also contended that contrary to the declaration by the EFCC that she was at large, the former minister said she was in the UK and was willing to return to Nigeria so that she could appear in court to take her plea and defend the charges.
However, the EFCC has opposed this move by Deziani.