Nigeria Has No Option Than To Fight Climate Change – Buhari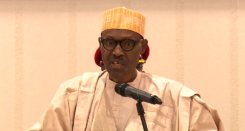 President Muhammadu Buhari has said that Nigeria has no other option than to join countries across the world to fight climate change.
Special Adviser to the President on Media and Publicity, Mr Femi Adesina, gave the hint on Wednesday during his appearance on Politics Today.
The President joined more than 60 Heads of State and governments, as well as representatives of non-governmental and private organisations at the One Planet Summit in France.
Adesina said President Buhari informed the audience that all the implications of climate change, such as erratic rainfall, erosion, and desertification among others, were evident in Nigeria.
"Nigeria has no option than to join the fight against climate change, and you know that since two years ago in France Cop21, our President had been in the vanguard of that in Africa.
"He was there, and he has been advocating for a recharge of the Lake Chad because the shrinking of Lake Chad to less than a quarter of its size has implications – both economic and security for Nigeria and the Lake Chad basin countries," he told Channels Television via Skype from Paris.
According to him, the condition of the Lake Chad has resulted in youths within the region being lured easily into insurgency and most of them being attracted to illegal migration.
"They die in the Sahara desert; they die in the Mediterranean. So Nigeria stands a lot to gain if it supports the fight against climate change," the presidential aide said.
On President Buhari's requests at the conference, Adesina said: "He asked for three specific things.
"Number one, finance; to recharge Lake Chad will mean diverting water from the Congo basin and some other rivers in Africa. It takes a lot of money which all the African countries in the Lake Chad basin cannot afford; the West will have to support.
"Then he asked for technical support; you know that fighting climate change requires technology which Nigeria does not have. So he looks towards the West for that technical support and then, he talked about capacity building.
"The people that are going to spearhead that fight need to have their capacities built, and so, Nigeria is looking towards the West for those three things – finance, technical support and capacity building."