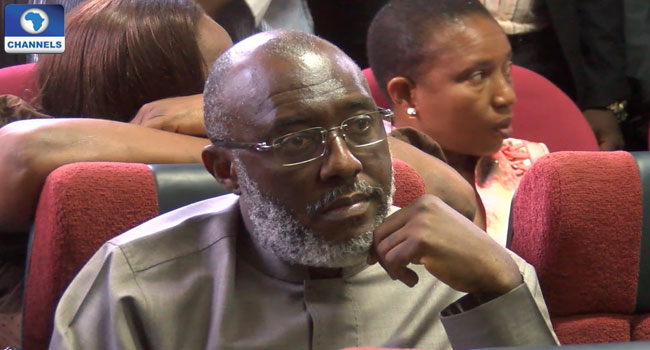 The ongoing arms deal trial of former National Publicity Secretary of the Peoples Democratic Party (PDP) Mr Olisa Metuh has been adjourned by a Federal High Court in Abuja.
The case was on Monday, January 22, adjourned after Metuh's counsel, Mr Emeka Etiaba, informed the court that his client is currently on admission at the Nnamdi Azikwe University Teaching hospital for an undisclosed ailment.
The case was therefore adjourned to January 23, 2018.
The trial judge, Justice Okon Abang adjourned the case to Tuesday to enable cross-examination of Metuh's 9th witness.
READ ALSO: I Cannot Recall My Dealings With Metuh, Dasuki Tells Court
Etiaba in December 2017 told a Federal High Court in Abuja that the lives of his clients Mr Metuh and the lead counsel in the case Dr Onyechi Ikpeazu are been threatened as a result of the subpoena order of the court which had asked former President Goodluck Jonathan to testify in the case.
Etiaba held that they would not yield to the threats and insisted that the former President must testify in the case.
Justice Okon Abang then adjourned the case to December 5 and 6 to enable the defendant call any other person other than the Former President as a witness in the case.
Metuh has been standing trial for allegedly collecting N400 million from the former National Security Adviser (NSA) Sambo Dasuki.