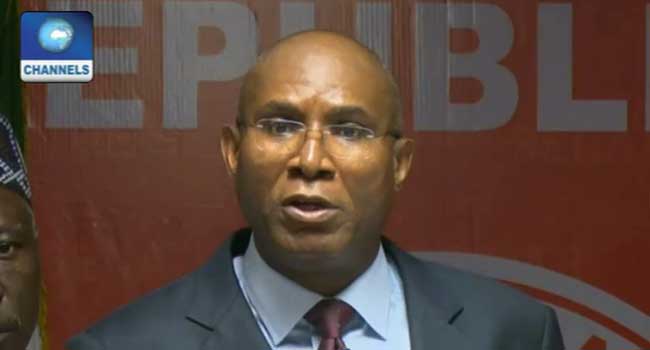 Senator Ovie Omo- Agege has apologised to the Senate over his comments about electoral act Amendment.
Omo-Agege had earlier accused the upper legislative chamber of deliberately targeting President Muhammadu Buhari by changing the sequence of elections.
Alongside nine Senators, Omo-Agege last week Wednesday made the statement after the Senate adopted the conference report on the amendment. They alleged that the amendment had a pre-determined motive aimed at President Buhari.
The Senator representing Delta Central Senatorial District, however, apologised on Wednesday, February 21, during the Senate plenary.
After the apology, Senator Ike Ekweremadu who presided at plenary advised Senator Omo-Agege to meet with Committee on Ethics which has been mandated to investigate the matter.
READ ALSO: Senate To Probe Senator Omo-Agege's Comment On Electoral Act
We Can't Allow APC Wither Away, Akande Rallies Support For Tinubu
The Senate on Tuesday, February 21 directed its committee on Ethics, Privileges and Public Petitions to investigate the statement credited to Senator Ovie Omo-Agege. This was after Senator Dino Melaye raised a point of order saying his privilege as a Federal Lawmaker and that of the Senate was breached by the statement made by Senator Omo-Agege.
The adoption of the amendment to Section 25 of the Electoral Act 2010, provides that the presidential elections would be conducted last, instead of first, as is the current order.