One of the abducted Dapchi schoolgirls who secured freedom on Wednesday has narrated how five of them died of heart attack while in custody of Boko Haram insurgents.
Khadija Grema narrated her ordeal in the hands of the insurgents to Channels Television correspondent in Yobe State who caught up with her in Jumbam town where Khadija and six others had reportedly been reunited with their parents.
She spoke strictly in Hausa language explaining how they were handpicked from their school on the fateful night of the attack and eventually released.
Grema said further that the insurgents did not maltreat them but five of them died of heart attack and stress caused by the trauma of the abduction.
Read her narration which was transcribed to English Language below:
"That fateful day we were ready for dinner when we heard shootings then one of our teacher was calling and directing us to go out through the gate. When we run into the insurgents at the gate, they gathered all of us in the name of rescue when suddenly they asked Babangida the driver to bring the truck which they packed us in.
"As we continue to move into the bush they ask for those who are fasting among us. They then serve us drinks, meat and food after which we say our prayers and continue the journey. We cross several rivers and streams and into one house where we leave on till our departure day that's yesterday. But to be honest we were well treated. They didn't torture us as they treated us well throughout our stay in captivity.
"They didn't do us anything and their major Language is Kanuri and Arab. There were no whites among them as all of them are Africans. We didn't know why they brought us back but they told us we are Muslims and we share the same faith and they don't want us to suffer.
"Five of our colleagues died of heart attack, trauma and stress as a result of the long trip. They didn't allow us close to them neither do they subject us to any molestation any kind of sexual harassment with us. One of the girls was held back on the religious ground. She is a Christian and refused to denounce her religion."
 'Unconditional' Release Of Dapchi Schoolgirls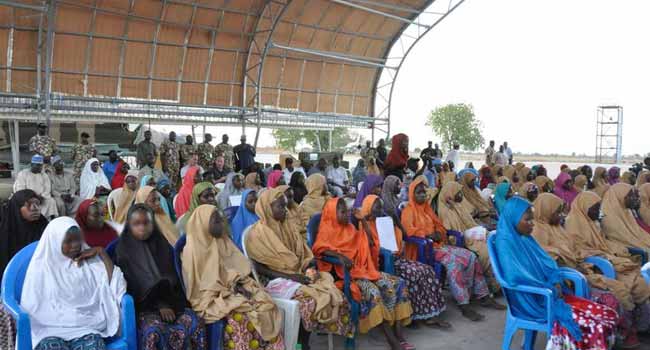 The Federal Government has confirmed that, the release of 106 Dapchi schoolgirls abducted by Boko Haram terrorists on February 19 in Yobe State, was unconditional and no ransom paid.
Minister of Information and Culture, Mr Lai Mohammed, confirmed the number on Wednesday saying a total of 106 abducted persons, comprising 104 Daphi schoolgirls, one other girl and a boy were freed by insurgents in the early hours of Wednesday.
Briefing journalists in Maiduguri, Lai Mohammed, said all the 106 persons were freed unconditionally and that no ransom was paid to secure their release.
"It is not true that we paid ransom for the release of the Dapchi girls, neither was there a prisoner swap to secure their release. What happened was that the abduction itself was a breach of the ceasefire talks between the insurgents and the government, hence it became a moral burden on the abductors. Any report that we paid ransom or engaged in prisoner swap is false," he said.
Jubilation In Dapchi
The parents of the missing girls and residents of the community on Wednesday burst into joyful noise upon the return of their children.
This more than four weeks after they were abducted from the Government Girls Science and Technical College, Dapchi.
Unfortunately, five of the girls are reported to have died as a result of the trauma while one of them was not released. But the minister did not confirm this.
In a statement signed by his media aide Segun Adeyemi, Mr Mohammed explained that girls' release followed the directive by President Muhammadu Buhari to all security agencies to do everything possible to secure the release of the Dapchi schoolgirls.