Alleged Fund Diversion: FG Files Amended Charges Against Dasuki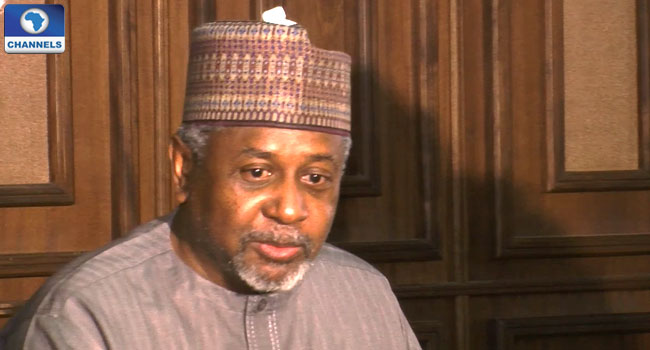 The Federal Government has filed a 25-count amended charge against a former National Security Adviser (NSA), Colonel Sambo Dasuki (rtd).
Colonel Dasuk's re-arraignment by the government on Thursday at the High Court of the Federal Capital Territory in Abuja is the second in 24 hours.
READ ALSO: FG Files 32 Amended Charges Against Dasuki, Others
The former NSA, who served under former President Goodluck Jonathan, was re-arraigned along with a former Minister of State for Finance, Badhir Yuguda; former Sokoto State Governor, Attahiru Bafarawa; his son, Sagir Dalhatu, and their family company, Dalhatu Investment Limited.
A former Director of Finance and Supply at the office of NSA under Dasuki, Mr Salisu Shuaib, was, however, dropped from the list of the accused persons, unlike the charge filed by the government on Wednesday.
Counsel to the Federal Government, Mr Rotimi Jacobs, told reporters in the nation's capital that after the examination of the report of the Economic and Financial Crimes Commission (EFCC) in the alleged money diversion, it became imperative to drop Shuaib from the charge.
Jacobs explained that instead of being a co-accused person, the former Director of Finance would be used as a witness to testify for the Federal Government in the trial of the five defendants.
Part of the charge against Dasuki was that he allegedly misappropriated and engaged in a criminal breach of trust by purportedly transferring the sum of N3.5 billion into the account of Dalhatu Investment Limited, an offence punishable under section 315 of the Penal Code Act.
His co-defendant, Yuguda, was also alleged to have dishonestly misappropriated the sum of N1.9 billion and another N200 million he allegedly transferred to the bank account of Jabbama Ada Global Services, an offence punishable under section 315 of the Penal Code Act.
On their part, Bafarawa, Sagir and Dalhatu Investment were charged for allegedly receiving the sum of N4.6 billion from the office of the NSA, an offence punishable under section 97 of the Penal Code Act.
Ruling on the matter, Justice Hussein Baba-Yusuf adjourned the trial of the defendants till July 9 and 10.